Suncoast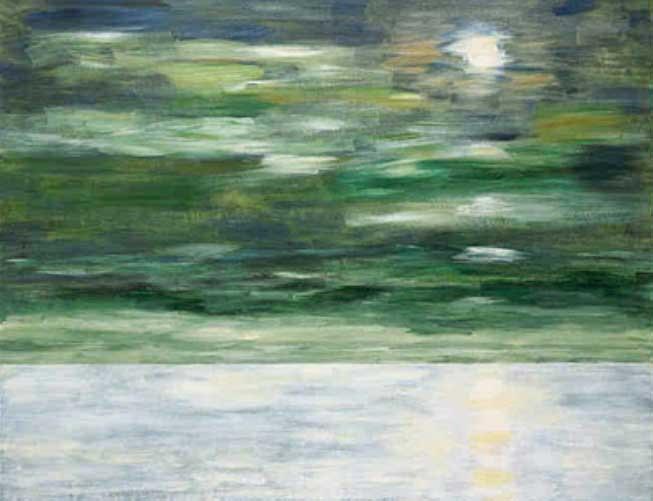 As implied by the name, Sun Coast, the new work of Pat Service reflects a shift towards home: the British Columbia coast. As one of Canada's foremost landscape painters, Pat Service has devoted most of her artistic career to examining landscape and still life themes, painting at specific locations throughout Canada, New York and Scotland. Due to her many sojourns to the Emma Lake Workshops, Pat Service is known for rich depictions of the prairie landscape. These new works explore a transformation in both theme and mode of expression.

Pat Service is exploring an amplified use of abstraction in these breakthrough works. The paintings become separated into sea and sky by a horizon line. This horizon line is a point of meditation and rest between the energetic use of paint, brush strokes, colour and texture above and below the line. In each work it is necessary to investigate the painting from a distance as an impressionist landscape as well as up close where there exists a complex, thick and luscious application of point.

The Sun Coast paintings evoke a sensation of non-location. Earlier works such as "Terry's Way" or "Sage Grey Lake" tend to depict specific places. With titles such as "Green Tea", "Sapphire" and "Mint Glaze", this new body of work gives the impression of a single essence rather than a single place. It has a primal feel. The viewer is faced with an evocation of "Sapphire" or "Green Tea" as well as a landscape that is layered, sculpted, moulded and resonating with horizon, sky and sea. This interplay creates an excitement where there is a movement between the layers, asking the viewer to react to this powerful interaction.

There is a letting go in these new works. "I was trying not to predict what would happen "Service says. This new work is a response to spontaneous impressions of landscape and resonates with the sensation of a time and space rather than a specific place. These paintings have become an expressive reflection on returning home.
TRUDI SMITH
March 2001